Metal sheets bending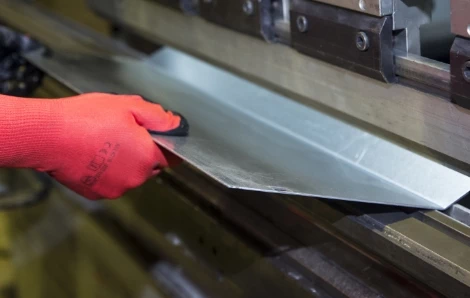 Another service that we are able to provide to our clients is metal sheets bending on conventional machines with a pressure of up to 260 tons or on numerically controlled (CNC) bending machines with a force of up to 160 tons.
Products that are bent in our company are characterized by high precision and bending quality. Bending of larger dimensions items and other materials is carried out based on a specification provided by the client or a technical drawing.
What does metal sheet bending look like?
Metal sheet bending - as well as large-size bending - is a process consisting of the proper shaping of a given material. In our daily work, we use brakes and bending machines, also controlled by computer technology. Thanks to access to advanced devices, equipped with modern numerical control, we are able to carry out the order with the highest precision, maintaining the appropriate quality and great repeatability of all projects.
Mechanical brakes enable the bending of larger dimensions items at any angle. Our devices are equipped with special knives that allow the shaped material to be pressed against the prism. The processed raw materials can be formed at any angle with great precision. Thanks to this, we are able to carry out unique projects of our clients.
How much does metal sheet bending cost?
If you are interested in the price of metal sheets bending, please contact us and provide all the details of the order. Due to the possible complexity of the projects, the prices of services depend on many factors, e.g. the type of material, the number of raw materials, or the degree of difficulty. Regardless of the order, we always provide fast and efficient execution while maintaining quality standards.