Produkty dla przemysłu okrętowego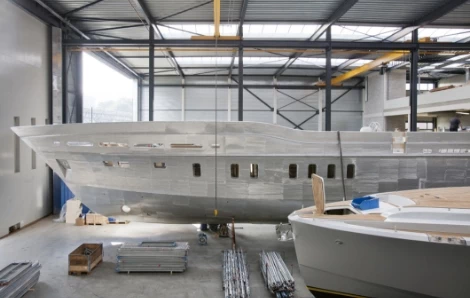 We have been producing elements for the needs of the shipbuilding industry for many years. We also produce steel elements for yacht equipment. We work mainly with western contractors from countries such as the Netherlands, Norway, and Germany. We also work with contractors from Poland. Our company has extensive experience in the production of various types of ship hatches and covers, including oval hatches. We make steel structures for hull equipment, deck elements, and mast elements. We realize individual orders according to the client's specifications.
Production of ship hatches
One of our specialties is the production of ship hatches distinguished by excellent quality and resistance to external and internal factors. For the production of all elements, we use materials with appropriate technical properties, ensuring, above all, excellent resistance to corrosion and hazardous substances. All ship covers and hatches have easy access to the interior - our products meet stringent safety standards. Steel hatches allow for easy and comfortable operation on a daily basis.
Our stainless steel hatches - despite some design differences - are made of the best connecting materials, guaranteeing the highest standard of reliability, durability, and insensitivity to weather conditions. We offer ship covers of various International Protection Ratings (e.g. watertight or weathertight). We carry out production from scratch to the finished product suitable for assembly. We also specialize in drilling holes, screwing, welding, and preparing supplementary elements, e.g. seals and rubbers. At the client's request, we can clean and paint the product.
Elements for the shipbuilding industry
Our company has been associated with the shipbuilding industry from the beginning of its existence. To this day, we have been successfully cooperating with clients from Poland, Germany, the Netherlands, and Norway. Our products are valued for their quality and perfect workmanship.
Experience is essential
We have been gaining experience in the production of elements and structures for the shipbuilding industry for over 20 years. Experience is a very important factor in this branch of the metal industry. In our company, it translates directly into the speed of realized orders and quality appreciated all over the world.


We execute structures for the shipbuilding industry according to individual clients' orders. Our company has the appropriate facilities and experience to complete your order.
---
Elements of hatch covers and decks:
rolling wheels with

shafts

hinges and stoppers

guides

container elements such as container

sockets and hooks
holders for securing loads (e.g. sockets for ships carrying cars)
deck fasteners
seals of coamings, covers, hatches (rubber, Teflon)
fan covers as well as the fans themselves

ship ventilation louvers
windlasses and

anchors

yacht anchors

deck crane arms

hatch covers
hatches, coamings, covers
ship hatches and covers

oval ship hatches
We provide ready-for-assembly ship hatches

We make various types of ship hatches

We have extensive experience in the construction of ship components
---
Hull structures and RO-RO (Roll On / Roll Off):
various types of tanks
tie-beam
ship ramps and
landing crafts
loading ramps
goods lifts
---
We specialize in the production of ship hatches and covers
In the production of ship hatches and ship covers, we manufacture from scratch to the finished product. We have been cooperating with recipients from the Netherlands, Denmark, Germany, and Poland for many years. Our services for the production of ship hatches include:
Preparation of material for the production of elements
Burnout of details or rolling from a flat bar
Turning
Drilling holes
Screwing
Provision and preparation of complementary elements (e.g. rubbers, seals)
Welding (if needed)
Cleansing and painting
We carry out the work on our own
We do 100% of the work on the execution of orders for products for the shipbuilding industry on our own. It results in lowering the execution costs, as we do not have to use the services of intermediaries and subcontractors. Our machine park allows us to have full control over the execution of the order.